| | |
| --- | --- |
| Status | Sold to VR Resources Ltd. Share Interest & Royalty Interest Retained. |
| Target | Orogenic/intrusion related copper-silver-gold deposit. |
| Key Points | High grade copper-silver-gold in 6km long vein system associated with strong gravity anomaly. Excellent access, 1.3km from highway. |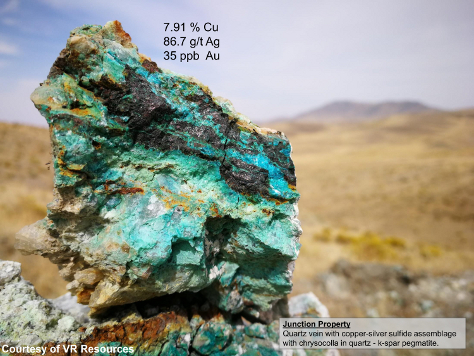 The project was sold to VR Resources Ltd in August 2017 for:
Initial payment US$10,000 + 50,000 shares in VR.
Further payment of 50,000 shares in VR should drilling take place. Project returned to Sunrise if no drilling takes place within 18 months of the date of the Acquisition Agreement.
Further payment of 250,000 shares in VR should VR complete and file a 43-101 compliant report containing a resource estimate for the Project.
Royalty payments on production equal to 3% of the Net Smelter Return, subject to VR's right to buy up to half of the royalty entitlement (1.5%) for US$500,000 per half-percent.
Terms of agreement, including royalty, extend to a 2 mile area of influence from the original Project claim boundary.
To date Sunrise has been issued with 100,000 shares in VR.
VR intends to evaluate the gold- and silver-bearing copper sulphide mineralisation evident at Junction for its potential as the surface expression of a mesothermal polymetallic vein system. The location within the Antelope Shear zone provides a crustal-scale anchor for a high temperature, copper-silver-gold metasomatic and/or magmatic-hydrothermal fluid system.
Location and Access
The Junction property is located in Humboldt County, near the Nevada-Oregon border, and immediately east of Nevada Highway 140. The nearby town of Denio Junction is less than 6 kilometres to the north, and facilitates effective and cost-efficient field exploration programs. The Junction property is little explored because of its location outside of Nevada's well-established mineral deposit belts.
Current Exploration
VR has completed first pass geological mapping, prospecting, rock sampling, grid-based soil sampling, a gravity and magnetic survey and initial drill testing of the Denio Summit target.
Property Geology and Mineralisation
In 2019 VRR announced the drill discovery of a Cretaceous-age porphyry copper mineralised system within the 6km mineralised trend that includes the Junction Property. This has the same age as the Robinson porphyry copper deposit at Ely, Nevada, which has a history going back to 1876 and which is still in production today, operated as a large open-pit mine by KGHM Polska Miedz S.A. VRR considers this a proven analogue for further exploration at the Junction Project.