| | |
| --- | --- |
| Status | Sold to VR Resources Ltd. Royalty Interest Retained. |
| Target | Orogenic/intrusion related gold deposit. |
| Key Points | Gold in quartz reefs, assays ranging 1.3 - 16.2 g/t Au. Opportunity to build a regional gold play. Excellent access, 1.3km from highway. |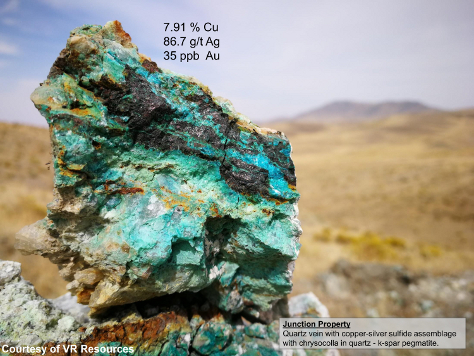 Location & Setting
The Junction Copper-Silver-Gold Project is located close to Highway 140 immediately south of Denio Junction, close to the Nevada-Oregon Border. It is not included in any of the large areas of Northern Nevada currently subject to withdrawal from mineral entry for sage grouse preservation.
Exploration & Mineralisation
There is no record of company exploration on the property but there are a number of bulldozer trenches, excavations and shallow prospecting tunnels and reference to drilling having been carried out for copper by a prospecting syndicate. The excavations, scattered over the 1.2 sq.km. area, target copper mineralised quartz veins and shear zones in Cretaceous age granite in a northeast trending zone.
The Company has identified a separate gold zone on the property to the northwest of the copper zone. This gold zone is also northeast striking and contains at least one quartz reef (c. 1m wide) exposed in a number of locations. Most of the zone and its potential strike extensions are soil covered.
Five grab samples taken from exposures of the quartz vein over a strike length of 240m all contain gold with assays ranging from 1.3 to 12.9 g/t gold, averaging 5.6 g/t gold.
Two samples of altered granite wall rock from near the reef assayed 1.6 and 3.8 g/t gold suggesting potential for more significant widths of gold mineralisation.
Select samples from the copper zone assay up to 4.7% copper with 0.7 g/t gold. The higher grade copper mineralisation is associated with high levels of bismuth (up to 180 ppm) and silver (up to 87 g/t). The gold zone samples are low in copper, bismuth and silver.
Two grab samples of quartz taken from a separate quartz reef, 275m to the southeast, in the copper zone, also contained significant gold values with assays of 3.3 and 16.2 g/t gold. The quartz vein samples with higher gold contents are low in copper, suggesting that the gold and copper mineralisation may be spatially related but formed in two separate episodes of mineralisation.
Another zone of prominent quartz stockwork veining outcrops some 1km south of the main zone and has samples assaying up to 3.3 g/t gold and 2.3% copper.
The significance of this new gold find remains to be determined but initial sampling results are very favourable.
A trial soil sampling line generated a positive response over the main zone suggesting that this will be a useful and cheap reconnaissance tool in this area and also highlighted a potential parallel gold zone under soil cover. The project can be brought to the drill stage with very little additional work.
The project is located far from any modern-era gold mine or deposit and offers the focus to build a regional gold (+/- copper) play.
The deposit has the characteristics of an intrusion related gold deposit but also of the orogenic gold type, a type that host some of the largest gold endowments of any gold deposit type around the world but which has not traditionally been the target of gold exploration in Nevada. The recognition of Waterton Global's 5 million ounce Spring Valley deposit as a possible orogenic/intrusion related gold deposit is likely to change this.
For further information please contact us on info@sunriseresourcesplc.com.