The Company's CS Pozzolan-Perlite Project is in Esmeralda County, Nevada, USA, and covers large deposits of pozzolan and perlite.
The staking of the Project claims was first announced in November 2016 work carried out to-date includes mapping, trenching, drilling of 34 reverse circulation drill holes in two phases and extensive laboratory testwork for both pozzolan and perlite production and commercial scale testing.
This has resulted in the definition of extensive deposits of volcanic tephra and tuff meeting the requirements for High Quality Natural Pozzolan (HQNP) in the Tuff Zone and in the eastern part of the Main Zone, along with deposits of perlite in the eastern and western areas of the Main Zone which also have pozzolanic properties.
An additional area of HQNP, the Northeast Zone, presents a large additional target currently only defined by one drill hole and surface samples.
In the Spring of 2018, after completion of the 2nd drill programme, a strategic decision was made to move into the mine permitting process and in 2019 the Project moved into a more advanced stage. Mine planning is complete. Testing and marketing Memoranda of Understanding have been signed with two separate buyers of perlite and discussions are in progress with cement companies interested to secure new sources of natural pozzolan.
A 100-ton bulk sample of HQNP has been mined and supplied to a potential large customer and has been successfully processed producing a HQNP meeting the requirements of the American standard for natural pozzolan, ASTMC618.
An 8‑ton sample of perlite has been crushed and sized at SGS in Canada and a 2-ton sample has been successfully expanded to a horticultural grade perlite pursuant to an offtake Memorandum of Understanding already in place.
The Plan of Operations, which has now been submitted, envisages a 27-year mine life where both perlite and natural pozzolan are mined from the Main Zone in years 1-15 with pozzolan continuing to be mined in the Tuff Zone in years 16-27.
The Company is now able to progress the project through the National Environmental Policy Act (NEPA) process in accordance with the streamlined NEPA process that was mandated by an Executive Order of President Trump and in compliance with the quicker and less intense Environmental Assessment process, rather than the longer Environmental Impact Statement process.
The Company expects to be fully permitted in the fourth quarter of 2019.
For further information on pozzolan click here and for additional information on perlite click here.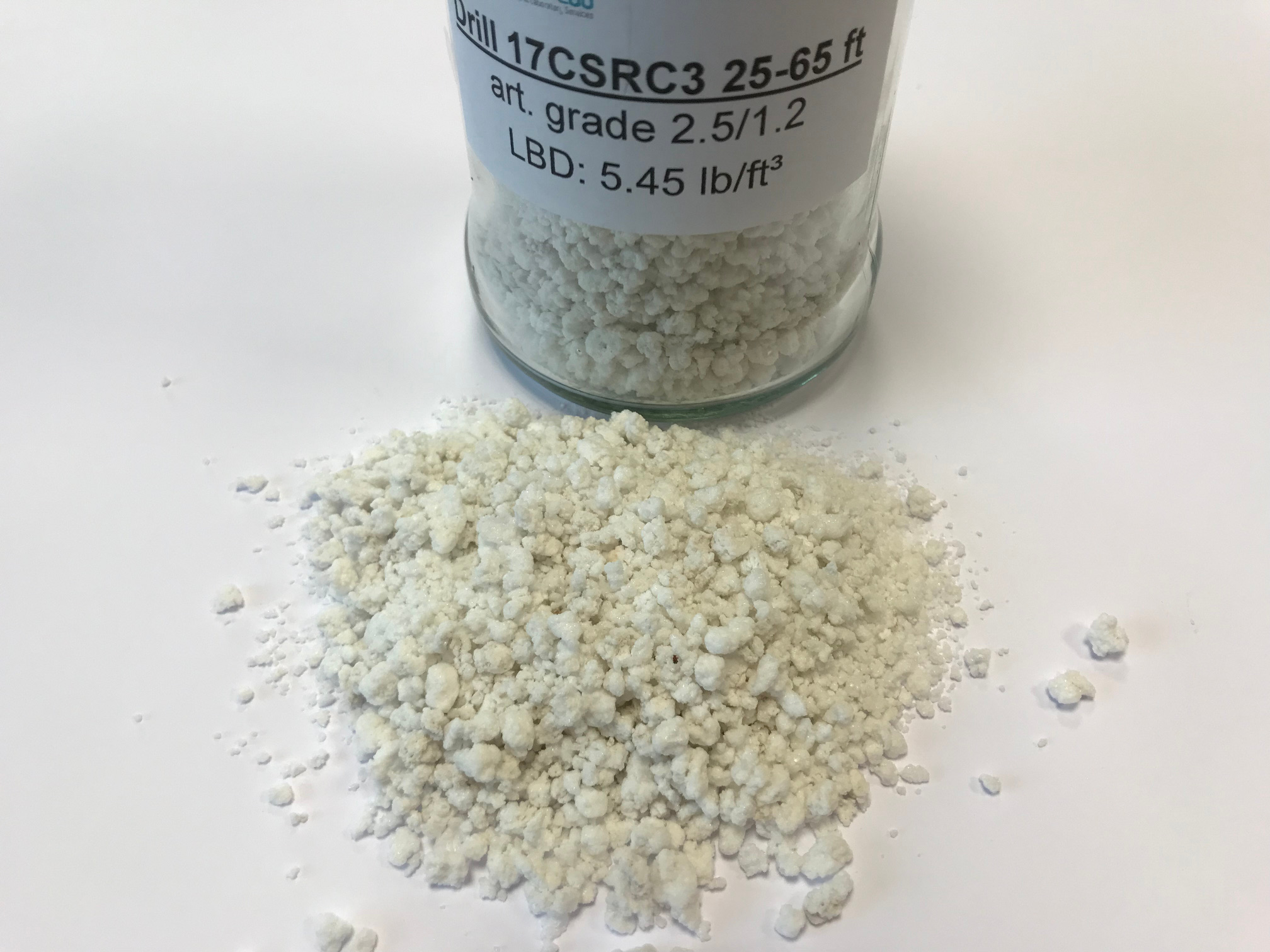 Coarse grade expanded perlite from
CS Project drill hole 17CSRC3