The Company's CS Pozzolan-Perlite Project in Esmeralda County, Nevada, USA, covers large deposits of natural pozzolan and perlite and is planned as the company's first development project.
Large deposits of both industrial minerals have been defined by mapping, trenching, drilling and bulk sampling. The deposits are comprised of extensive deposits of volcanic tephra and tuff meeting the requirements for High Quality Natural Pozzolan (HQNP) in the Tuff Zone and in the eastern part of the Main Zone, along with deposits of perlite in the eastern and western areas of the Main Zone which also have pozzolanic properties.
An additional area of HQNP, the Northeast Zone, presents a large additional target currently only defined by one drill hole and surface samples.
Extensive testing programmes have been carried out by the Company and samples submitted to potential customers for their own testing with successful results.
The Plan of Operations envisages a 27-year mine life where both perlite and natural pozzolan are mined from the Main Zone in years 1-15 with pozzolan continuing to be mined in the Tuff Zone in years 16-27. It also allows for the following production options:
Natural Pozzolan
Direct sale of as-mined ore to cement companies; and
Construction of a fixed process plant to crush and grind natural pozzolan for sale to cement companies and ready-mix concrete companies.
The first of these options has the lowest capital and operating cost but a fewer number of potential customers. The second option would require construction of a grinding plant, most likely off-site, and the Company is carrying out due diligence on a mothballed grinding and mineral processing plant located at Millers, 15 miles by road from the CS Project.
Perlite
Production of coarse horticultural grade perlite using mobile crushing and screening equipment and use of undersized perlite as natural pozzolan; and
Construction of a fixed perlite processing plant to produce a range of raw perlite products in coarse, medium and fine grades.
The mobile plant for the first of these perlite production options is available from the quarry industry and can be bought, rented or leased and, subject to availability, production could start quickly at a relatively low capital cost. The Company has been working with equipment suppliers to cost and source the required process plant and has received cost proposals for the rental of the various plant items in line with the Company's objective to develop the project at minimal capital cost.
The Plan of Operations also includes programmes of drilling and bulk sampling to run concurrently with mining. These exploration programmes will test for extensions of perlite and natural pozzolan which are open ended and project beyond the current pit limits. This includes evaluation of the extensive Northeast Zone which so far has been tested by a single drill hole which intersected 40m of high quality natural pozzolan from surface. Previous exploration suggests that the Northeast Zone target extends over an area at least as large as the Main Zone and is an exciting target for further evaluation.
Mine Permitting
The Company's Plan of Operations was accepted by the BLM in July 2019 allowing the Company to progress through the NEPA process and to prepare its Environmental Assessment ("EA") in accordance with a streamlined process mandated by an Executive Order of President Trump. A series of Supplemental Environmental Reports have been prepared to support the EA which set out the impact of the project on various resources (e.g. water, air quality, wildlife, soils and vegetation, etc.) on a cumulative basis taken with other existing or proposed developments in the project's wider area. These impacts are considered by the Company's environmental consultants to be minor or negligible in most cases, except in respect of the mine area itself where there is a moderate but localised impact on soils and geology as would be expected for any mining operation.
The Company has also been required to provide an Eagle Management Plan to mitigate the impact of the project on the eagle population should recently unoccupied eagles' nests in proximity to the project become occupied in future. This plan has been reviewed by BLM and the US Fish and Wildlife Service which is a co-operating agency with BLM for this purpose.
Following the completion of permitting the Company is required to submit a reclamation bond before mining can start. The Company's Plan of Operations is phased, allowing the amount of the initial bond to be minimised.
For further information on pozzolan click here and for additional information on perlite click here.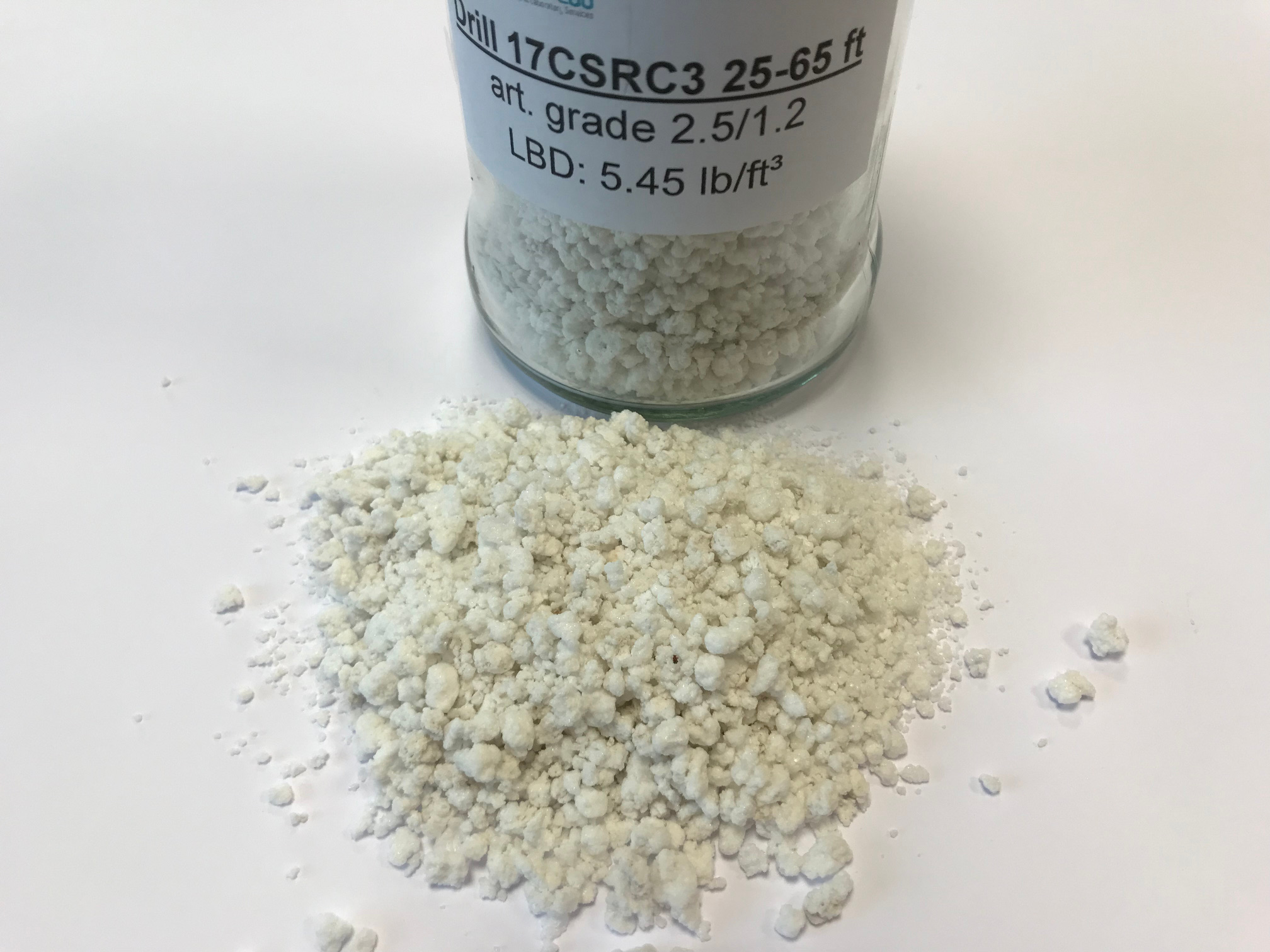 Coarse grade expanded perlite from
CS Project drill hole 17CSRC3